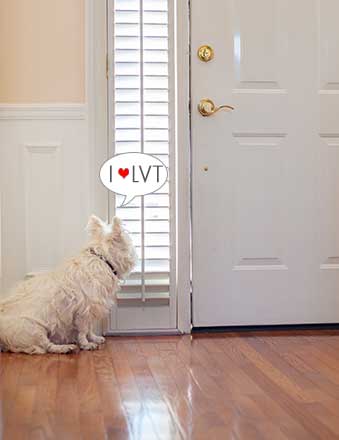 A significant member of your at-home community is the family pet. More and more, home remodeling decisions include the needs and security of your pet cat or dog. And why not; the average lifespan of your pet may encompass the growing up years of children in the home as well.
For example, there are very genuine dangers to the health of animals if the floors in your home are too smooth. When dogs slip or slide as they maneuver the halls and living room, they run the risk of dislocating hip bones, shoulders and creating general tendon damage over time. This danger becomes exacerbated by the daily excitement of welcoming you home from work or barking at strangers that come too close to the front door. This concern is especially pronounced when your pet's untrimmed nails are not filed regularly.
While it may appear amusing to you that your dog has lost his footing and bumps into the front door in his efforts to greet you; imagine what it would be like if you had to function in such a challenging environment every day.
Another item for consideration is the fact that while we welcome our pets to relax and sit with us on the bed and couch, more often than not, they spend time sleeping on the hard surface of the floors in our home. Comfort becomes an issue when we consider the fact that the surface of stone or wood is uncomfortable and cold for pets to lie on, particularly as they age and experience arthritis and sensitivity to dampness.
Many flooring ads promote durability and maintenance as a primary benefit for buyers. While scratch and stain resistance are significant considerations when deciding to install a new flooring, it will profit you to take time to examine the best flooring options for your pet before finalizing your choice.
An excellent choice for flooring in a home with children and pets is COREtec® Plus Luxury Vinyl Tile. While it is both scratch and stain resistant, it also features additional benefits for both pets and parents.
With a hi-definition textured finish, your pet is less likely to experience the slippery surface often inspired by high gloss laminate floors.
As a 100% waterproof tile, urine accidents and water spills will not destroy the beauty of the flooring, nor will uncomfortable scents permeate the house.
For customers with a high sensitivity to allergens, GreenGuard Certified, COREtec® Plus assures its customers that indoor air quality and chemical exposure will not be an issue.
Cleaning COREtec Plus LVT with water is simple and easy.
But most of all, because a cork backing is a part of the structure of each plank, floors are less likely to create an environment conducive to the growth of mold.
Cork-filled floors are quieter and warmer than standard LV products. No more nail clicking as your dog or cat traverses the living room.
Take the time to consider the best flooring options for both you and your pet beforehand to guard against overspending and the added discontent of good decorating intentions gone awry.