US Floors COREtec® Luxury Vinyl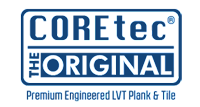 USFloors COREtec® is a patented technology offering premium luxury vinyl flooring renowned for its beauty. Engineered for durability and stability; nothing says classic elegance like the COREtec® Plus line. Unleash your creative side with these multi-tone and multi-width realistic wood and stone look planks and tiles.

Shop-By-Look for All COREtec® Products Or Compare All COREtec® Products.
USFloors®

Special Price

$152.58

Regular Price

$200.00

USFloors®

Special Price

$106.45

Regular Price

$122.85

USFloors®

Special Price

$152.58

Regular Price

$200.00

USFloors®

Special Price

$134.48

Regular Price

$150.00

USFloors®

Special Price

$106.45

Regular Price

$122.85

USFloors®

Special Price

$106.45

Regular Price

$122.85

USFloors®

Special Price

$106.45

Regular Price

$122.85

USFloors®

Special Price

$106.45

Regular Price

$122.85

USFloors®

Special Price

$134.48

Regular Price

$150.00

USFloors®

Special Price

$137.02

Regular Price

$161.40